WORK SMARTER, NOT HARDER
Our self-contained, 12-volt portable swimming pool vacuum system is perfectly suited for the pool service technician or aquatic facility manager. Hammer-Head units have been designed and tested by a swimming pool industry professional with over 30 years of experience in the field, and are widely used by pool maintenance technicians around the world. Please review this section for information about the features and function of the most popular manual vacuum system in the pool and spa industry.
If you are new to Hammer-Head manual pool cleaning machines, or even if you're a seasoned user, our video series is a great quick reference for everything from batteries to bags. Click below to watch the entire series.
IN A HURRY AND Looking for a PARTICULAR video? BROWSE the SERIES links below.
Frequently asked questions
The HAMMER-HEAD gives you maximum vacuuming power in a small, lightweight, portable package. It's what sets our cleaner apart from conventional vacuum systems. Our 12-volt rechargeable unit has you cleaning immediately without the usual set-up and run-around.
WHAT WILL IT DO?
Just lower it into the water and turn it on. The patented pressurized motor can recirculate the average pool in under an hour, and vacuum it clean in under ten minutes. Sand, sticks, leaves, and even coins are pulled into the high capacity debris bag, reducing the number of filter cleanings. You'll use less effort, too.
WHAT WON'T IT DO?
Hammer-Head units equipped with a standard debris bag can vacuum up leaves, coarse sand, sticks, mulch, small gravel and even some coins. With a superfine debris bag (HH1508) or ultra-fine volcano bag (HH1510), you'll be able to pick finer sand and silt. It will not filter algae out of the water, and it is not a complete substitute for the pool's filtration system or filtration vacuuming. There will be cases where the filtration system is the best way to clean the pool. For all other cases, however, the advantage to using the Hammer-Head is that the debris goes into the bag and stays out of the filter system. This means fewer filter cleanings and less strain on the pool equipment.
Why would I want TO USE one?
Hammer-Head can help you increase your profitability. In the pool business, time is definitely money, and the rapid setup and working speed of a Hammer-Head unit will cut your pool vacuuming time by as much as 50%. If your goal is to shorten your workday, or if you want to take on more work, you will save time with a Hammer-Head. Your Hammer-Head will pay for itself in time savings alone and will leave you wondering how you ever got by without one.
Do I have to be trained to operate it?
A Hammer-Head is no more difficult to operate than your household vacuum cleaner. The cart is balanced, rolls easily over most terrain, and carries most of what you need in one trip. You'll expend less energy on the job. Just attach a standard pool pole, lower it into the water, and turn it on. It's that easy.
Is it safe for vinyl liner pools?
Yes, but as with any vacuum in a new liner pool, care should be taken on brand new, soft bottom liner pools. The Hammer-Head vacuum head has over 1" of clearance from the pool bottom, so scuffing or tearing a liner is not an easy thing to do. And because the Hammer-Head vacuum head design has wheels on the outside of the head, they protect it from making contact with the liner. The Hammer-Head suction is very powerful, but it can't lift the liner off the bottom because it's not close enough to it. We also make a brush attachment for the 21" head that lifts the vacuum off the bottom on firm brush bristles. It will change the steering, but raise the clearance even more.
WHAT IS THE MINIMUM WATER DEPTH?
Hammer-Head cleaners operate in any water depth greater than 12 inches. The debris bag does not have to be fully submerged for the vacuum to work, but the propeller on the motor must be underwater. Hammer-Head vacuums do not vacuum on dry land. (Yes, we have been asked this question).
is it safe to vacuum while swimmers are in the water?
The Hammer-Head uses safe 12 volt DC power to operate. Although it is easier to vacuum a pool when there are no swimmers present, there is no electrocution danger to swimmers when the Hammer-Head is battery powered and in use.
How does it mount to my truck or trailer?
The SERVICE-21 mounts to any truck equipped with a 2" REESE type hitch receiver. It mounts to any trailer with a set of U-bolts (included). The cart is secured to the mount with a toggle clamp latch and a safety pin. The Resort-30 and Resort-21 units use different carts and do not mount.
Can I get a RESORT-30 unit that can mount?
No, but... Some prefer the larger head and longer cord on the RESORT-30, but need a portable unit for their daily pool route, so we offer the SERVICE-30 as an alternative. It has the longer cord (60') and larger head (30") and also includes the mount system.
WHAT IS THE DIFFERENCE BETWEEN THE RESORT UNIT AND THE SERVICE UNIT?
The Resort units and Service units both use the same motors and the same interchangeable parts. The main difference between the two is in the cart design. Our service units are designed for pool to pool service route work and are ready to mount on your truck or trailer. Resort units are designed for maintenance work where the unit will be left on site, and are not compatible with the vehicle mount assembly. Resort-30 units have been used by aquatic facility managers around the US and abroad. Disney Resorts, Sea World, the US ARMY, the YMCA, cruise lines, countless country clubs, condominium associations, and municipalities have relied on the portability and ease of use that make the Resort-30 and Resort-21 the only economical equipment choice.
Is there a warranty? Can I get parts?
Hammer-Head units are backed by a limited one year warranty (12 months upon registration, or 6 months from date of manufacture if the unit is not registered). We offer a full compliment of readily available parts through your dealer/distributor, and service through Hammer-Head to keep your cleaner's motor working smoothly year after year. Click here to download our warranty statement.
HOW DO I REGISTER FOR MY WARRANTY?
Hammer-Head products that should be registered for warranty have a tag on them showing the serial number and the registration instructions. It's easy: Take a photo of the tag while is still on the product and follow the directions on the tag. Do not edit or alter the photo, and make sure you send your contact information so we can keep you informed. Hammer-Head may use your contact information to notify you of any important news regarding your Hammer-Head unit. We may ask you for a copy of the receipt as verification of the purchase date. If the information you submit is incomplete or inaccurate Hammer-Head may deny your warranty registration. Hammerhead does not share your contact information.
Can I just plug it into a wall socket?
NO. HAMMER-HEAD cleaners should NEVER be plugged directly into a 110v or 220v outlet. The HAMMER-HEAD is designed to work with 12volt power and specifically a 12 volt deep cycle marine battery as a power source (not included). The use of any other power source or voltage is not advised. Attempting to use a power source other than a 12 volt battery can damage the unit and put you at risk of electric shock. We highly recommend using sealed deep cycle marine batteries (see WHICH MARINE BATTERY SHOULD I PURCHASE?). Deep-cycle batteries are the only batteries that will last. Although it is possible to run the Hammer-Head using a 110 volt AC to 12 volt DC converter, we do not recommend operating the unit in this way due to the higher risk of electrocution. Please call to discuss the necessary specifications and inherent risks of using a voltage converter as a power supply.
What kind of battery and charger will I need?
We suggest the use of a 12 volt deep-cycle marine battery and an automatic charger that can charge at a minimum of 6 amps and no more than 10-12 amps. (See the NOCO charging port question below). Automatic chargers will charge the battery to full capacity and then adjust automatically to a lower charging rate to maintain the charge. Charge your battery every day and leave it connected to the automatic charger when not in use. This will lengthen the battery life. DO NOT TRICKLE CHARGE. DO NOT USE A CAR BATTERY.
WHAT IS THE NOCO CHARGING PORT FOR?
Hammer-Head units are equipped with a NOCO battery charging port, located just below the switch (NOCO part number GC016 or Hammer-Head part number HH1902). When using the compatible NOCO charger (NOCO part number G7200 or Hammer-Head part number HH1900 - not included), you can plug directly into the side of the unit for nightly charging. The NOCO charging port also gives an LED readout of the battery charge level.
TIP: After connecting to the port and plugging the NOCO G7200 charger into an outlet for the first time, make sure you do the initial setup. Press the "MODE" button to select the proper voltage level (12volts) and the battery type (in most cases select "NORM", unless you are using an AGM-type marine battery). Once you have set up the charger, it will charge at the proper rate of 7.2 amps, bring the battery up to a full charge, and then maintain it until you are ready to work again. Remember, the charger setup only has to be done the first time you use your NOCO G7200 charger, after that, the charger automatically knows what to do.
For best results and longest battery life, make sure your Hammer-Head unit is always plugged in to your NOCO charger (or an automatic charger with a minimum charge rate of 6 amps) when not in use.
WHICH MARINE BATTERY SHOULD I PURCHASE?
Batteries are not included with Hammer-Head cleaning units. Marine batteries typically come in series sizes 24, 27, and 30. We suggest a series 27 size battery. You can use any 12 volt battery of any size, but typically, the bigger the battery, the longer the run time. The amp hour rating (Ah number) of the battery will tell you roughly how long the unit will run. For example, a 90 Ah battery will run the unit continuously for 4-4.5 hours. To calculate run time based on amp hours, divide the Ah number by 22. This will give you the approximate run time in hours.
Avoid using marine starting batteries. A general purpose trolling motor battery will work fine. We do not recommend using marine starting or cranking batteries due to their shorter life span. Sealed, or maintenance-free batteries are a good idea so you don't have to check liquid levels. These items are available at super stores, marine supply stores, auto supply stores, and some buyer's clubs. Make sure you charge your new battery before using it for the first time. Hammer-Head strongly suggests that you use a deep-cycle marine gel battery for the best performance and longest life. For more information about gel batteries and chargers, click here.
HOW CAN I KEEP MY SERVICE UNIT FROM BEING STOLEN?
Unfortunately, Hammer-Head unit theft is on the rise. The easiest way to secure the unit is to put a padlock through the mount ring on the cart frame (as shown here). If the lock is in place, the cart can't easily be removed from the mount assembly. Remember to record and save the serial number and register your Hammer-Head cleaning unit.
MOTOR repairs
With proper maintenance and care, Hammer-Head units can provide many years of reliable performance. Please see our TROUBLESHOOTING section for more help diagnosing Hammer-Head performance issues or to download a motor repair form.
Due to the difficulty of resealing older motors, we will generally not repair any motor that was manufactured with serial numbers lower than 071000. These motors should be retired and replaced rather than repaired.
BATTERY USE AND LIABILITY
Thousands of HammerHead pool cleaning units are currently in use across the United States and in other parts of the world. With proper care they will provide years of dependable service.
**Please note: IMPROPER BATTERY USE OR FAILURE TO INSPECT AND MAINTAIN YOUR 12 VOLT BATTERY CAN RESULT IN SHORT CIRCUITS, DAMAGE DUE TO OVERHEATING, BATTERY FAILURE, AND POSSIBLE FIRE OR PERSONAL INJURY. THE OPERATOR ASSUMES ALL RESPONSIBILITY AND/OR RISK ASSOCIATED WITH THE USE OF ANY HAMMER-HEAD PRODUCT, INCLUDING BATTERY SELECTION, INSTALLATION, USE, AND MAINTENANCE. USE OF ANY POWER SOURCE OTHER THAN A 12 VOLT DEEP CYCLE MARINE BATTERY IS NOT RECOMMENDED AND CAN VOID ALL WARRANTY OR LIABILITY CLAIMS.
Wiring connections must be inspected daily. Wires that are hot to the touch indicate a connection problem and should be repaired. Hammer-Head units that are not working properly should be either repaired immediately or disconnected from al power sources and removed from service

Do not place anything in the battery box that can bridge the terminals on the battery - this can cause direct short circuits and possible fire or even battery explosion. Do not use the unit without a battery box cover protecting your battery. Exposed battery terminals are unsafe.

If you reverse the positive and negative wire connections on your battery, the motor will run in reverse and the vacuum will suck the bag into the propeller. (If you have the HH1062 Smart Switch, the switch will not allow the unit to run if the wires are reversed).
ALL ABOUT DEBRIS BAGS
USE THE RIGHT BAG FOR THE JOB, and KNOW YOUR MICRONS
You can't see a micron with the naked eye, but filtration is measured, talked about, and bragged about in microns. So, what is a micron?
A micron is one millionth of a meter, or approximately .00003937 inches. Micron ratings are also absolute or nominal. Absolute micron ratings mean that the filter media will filter out 90% of particles below that micron size. Nominal micron ratings mean that the filter media will retain particles but not to any percentage greater than 50%.
To put it simply, the smaller the micron number, the finer the filtration. As debris goes, any particle below about 40 microns is smaller than the human eye can easily see.
Average diameter of a human hair: 70 microns
White blood cells: 25 microns
Talcum powder: 10 microns
Red blood cells: 8 microns
Bacteria: 2 microns
What does this mean? When a filter or bag manufacturer claims they have a 3 or 6 micron rating, you should ask yourself: Will this really filter blood cells, or actual bacteria? We don't think so either.
The truth is, there isn't much truth to micron ratings because there is no standardized testing for these ratings. Each manufacturer can apply any rating based on their own testing.
What is really important to you, the service manager or maintenance technician, is the real-world performance of these filter media, and of course, the Hammer-Head debris bags. Hammer-Head bags are so popular, they are even used by owners of other vacuums.
The bottom line: Don't believe every micron claim you read. With no industry standard, the only true test is the real-world test you perform yourself.
Hammer-Head bags are all handmade here in the USA from chemical resistant materials and feature a no-slip cleat/string attachment and color-coded tags for quick identification. They are reusable and with proper care will provide months of professional service. Bags should be stored clean and dry, and you should avoid dragging or scuffing them on the pool bottom, the pool deck, coping or any other rough surface.
HH1502 COARSE BAG "THE HURRICANE"
SUGGESTED USE: Heavy debris where a second cleaning is a given - Spring clean-ups and start-ups, too. Also comes in an XL size as part number HH1502XL (46" long). True micron rating: 800
SUGGESTED USE: Best for larger debris and coarser sand and gravel particles. Also comes in an XL size as part number HH1506XL (46" long). True micron rating: 200
SUGGESTED USE: Smaller and larger debris, dust and fine sand. Use this bag when the pool is mostly clean. Good everyday bag to use once the pool is up and running normally. Also comes in an XL size as part number HH1506XL (46" long). True micron rating: 150
HH1510 ULTRAFINE BAG "THE VOLCANO" (patented)
SUGGESTED USE: Use this bag for special cleanup and when the pool is mostly clean. Patented, no-leak design. Tested to pick up approximately 95% of fire ash and DE powder. True micron rating: 75
GENERAL OPERATING PROCEDURE
Roll the cart up to the pool with the power switch towards the water.

Slip your pool pole onto the yoke assembly, unwrap a few coils of power cord from the cart, and set the vacuum head down on its wheels on the pool deck.

Attach and tighten the debris bag.

Lift the vacuum head unit and lower into the water.

Turn on the power switch and begin vacuuming. Avoid vacuuming over the debris bag. Do not let the debris bag drag on the pool floor, as this can damage the bag and make it unusable.

When vacuuming the pool is complete, lift the head fully out of the water upside down (wheels up, debris bag down). Set the vacuum head down on the deck on its wheels and turn off the power switch. Avoid snagging the bag on the pool edge, dragging it on the pool deck, or setting the vacuum on top of the bag, as this can damage the bag and make it unusable.

Remove the bag. Turn it inside out to empty it. You can also hose it off to clean it fully before the next use.

Remove the pool pole. Leaving the vacuum head on the deck, coil the cord back onto the cart in large loops. Do not coil tightly. Remove any twists in the cord as you replace it on the cart.

Place the vacuum head back on the cart rests and secure with the safety bungee for transport. We do not recommend transporting the unit with the debris bag on the vacuum head, as this can damage the bag and make it unusable.
SAFETY & MAINTENANCE TIPS
CORD CARE
Poor power cord maintenance drastically shortens the life of the motor assembly. Store the cord in large loops as shown - Do not wind the cord up tightly.

Avoid kinking the power cord or sucking it up into the vacuum head.

Avoid pinching the power cord in the mount assembly when mounting the unit on to your vehicle.

After vacuuming, remove any twists in the cord by coiling the cord starting from the cart and ending at the vacuum head. The head can roll across the deck on its wheels, allowing you to take the twists out by spinning the vacuum head before you put it on to the cart rest.
MOTOR SAFETY & CARE
Do not run the motor out of the water longer than three minutes. (Note: Units equipped with the HH1062 Smart Switch will automatically shut off after about one minute and will flash a warning light).

Do not attempt to remove or replace the bag or reach into the vacuum head while the motor is running or if the switch is in the ON position.

It is better to scoop toys, rocks, sticks, or tree seeds out of the pool before vacuuming to avoid jamming or breaking the propeller.

Heavy piles of leaves can sometimes clog the vacuum. One way to clear clogs without stopping is to turn the unit off and on a few times. (If you have the HH1062 Smart Switch, the motor will do this automatically three times to clear the obstruction). You can also try raising the vacuum up to the surface and slightly out of the water. When the vacuum sucks in a little air, it can loosen clogged debris so that it will pass into the bag.

If the motor stops abruptly while cleaning, turn the unit off as quickly as you can to avoid damaging the unit. The HH1062 Smart Switch can protect the motor from an abrupt stop resulting in a motor burn by sensing the extra load on the motor and shutting it down before a problem develops. If you are using the Smart Switch and the motor stops, the switch will flash a red or red and blue light to let you know it is in safety mode. To learn more about Smart Switch functions, read UNDERSTANDING THE SMART SWITCH below.
PROPELLER REMOVAL & MAINTENANCE
Sharpening the propeller will improve its efficiency and keep debris from snagging.

Remove the prop each week and clean debris off the prop shaft. Shown here: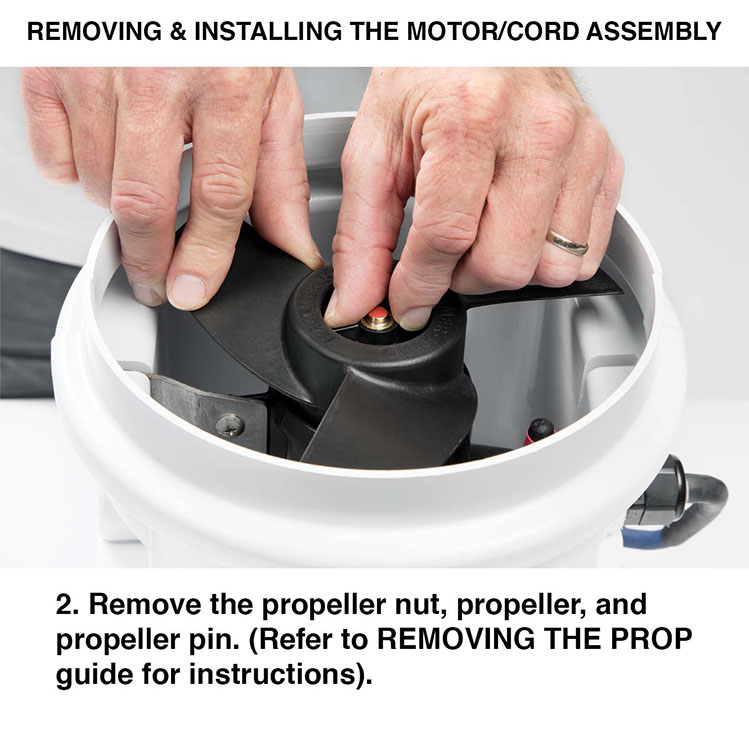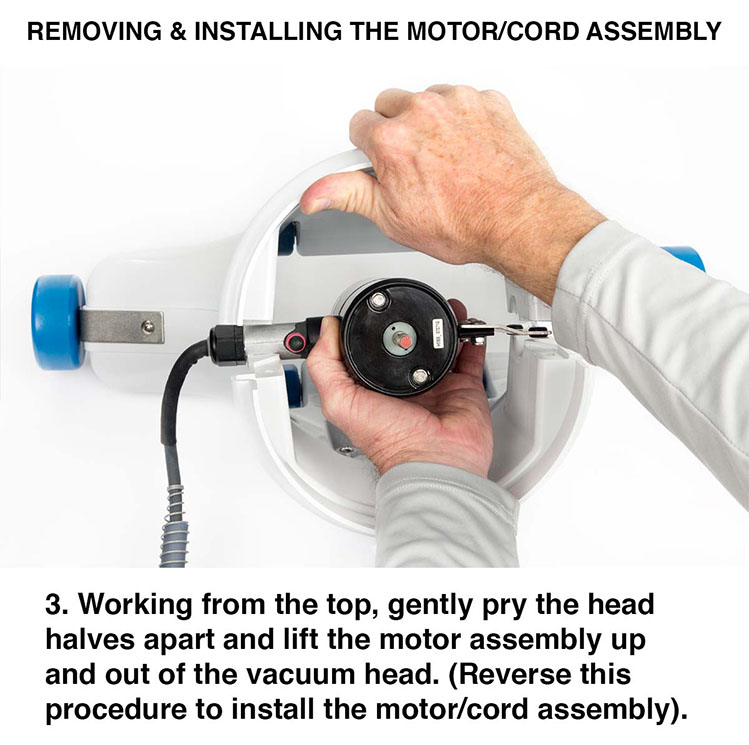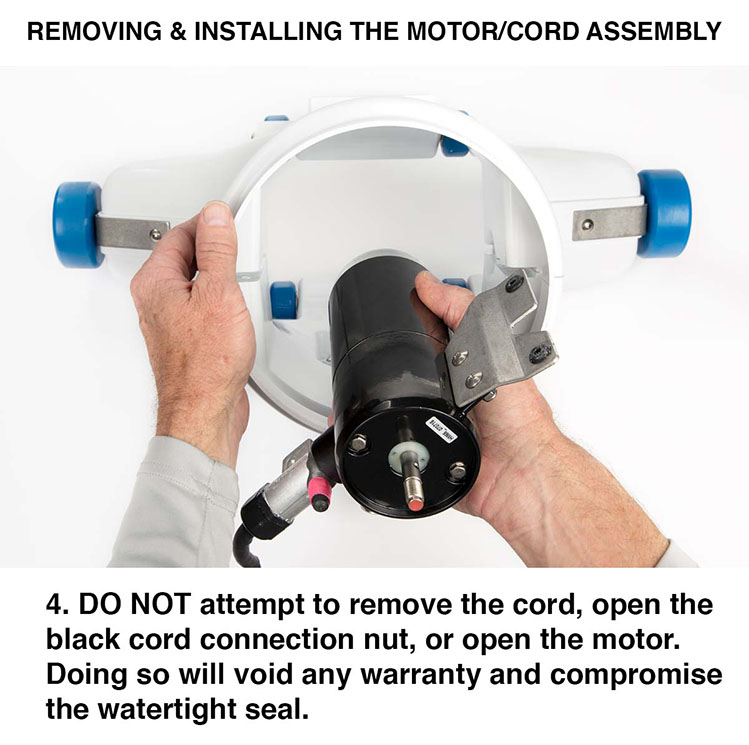 UNDERSTANDING THE HH1062 SMART (BLACK) SWITCH
The HH1062 Smart Switch was developed by Hammer-Head to add convenience, control, and protection to your Hammer-Head Resort or Service unit. The internal circuit board monitors amperage and voltage levels to save the motor from burnout during a jam, or while running out of the water. It has a built-in protection from reverse polarity wiring, as well as an auto shut-off feature when out of the water. Please note: Not all Hammer-Head units are equipped with the Smart Switch. These are some of the key features and functions:
FULL POWER MODE — press ON once — This turns on the motor with 100% power. The GREEN indicator light around the switch will remain solid. There may be a brief delay before the motor runs, and you may see a temporary flashing blue light and/or hear a sound before the light turns green. The blue light flash before startup is a diagnostic light and does not indicate a problem. SOLID GREEN LIGHT = FULL POWER MODE

LOW POWER (BATTERY SAVER) MODE — press ON, OFF, ON — This turns on the motor with 80% power. The green indicator light will flash. In this mode the motor runs slower, conserves power, and can extend your run time and battery life. FLASHING GREEN LIGHT = LOW POWER MODE

AUTO REVERSE MODE — The motor can detect changes in resistance on the propeller. If the prop becomes jammed and cannot spin, the motor will quickly reverse itself three times to clear the jam. If it cannot clear the jam and spin freely, the switch will shut down the motor and you will see a red flashing light.

SAFETY (SHUT DOWN) MODE — The motor has shut down because it cannot spin freely OR it has shut down because it has been out of the water for more than a minute. The lights will flash RED. Turn off the switch, pull the vacuum out of the water, and remove the obstruction. Return to vacuuming by activating the switch in either full speed or low speed mode. FLASHING RED LIGHT = SHUT DOWN MODE

WIRING FAULT MODE — The motor will not run and the lights will flash RED AND BLUE. This indicates that there is a short circuit in the wiring. Inspect the wiring and battery for faulty connections. A short in the blue floating power cord may be caused by a kink or twist. FLASHING RED AND BLUE LIGHT = WIRING FAULT MODE
MOUNT SAFETY AND CLAMP LATCH ADJUSTMENT
Make sure that the Service Unit is latched securely to your vehicle before driving. Always use the safety pin on the cart mount.

Secure loose items before transporting the unit on your vehicle.

Do not drive with chemicals in the accessory tray.

Inspect the mount and clamp mechanism regularly for tightness and wear. Follow the guide sheet to ensure that your latch mechanism and mount assembly are adjusted properly.

DO NOT use the mount assembly without a hitch pin to secure it to the receiver on your vehicle.

DO NOT drill additional holes in the hitch adapter or modify it in any way.

DO NOT install the hitch adapter to the mount upright with only one U-bolt. This is an unapproved and dangerous installation.
As part of our prorated warranty program on vacuum head half shells, owners of Hammer-Head units may purchase, directly from Hammer-Head, HH1030BK, HH1030FR HH1035 BK, and HH1035FR replacement parts at a discounted price after submitting proof of ownership and evidence of breakage or damage. A valid serial number and photo documentation must be submitted directly to Hammer-Head with each claim. Based on investigation, Hammer-Head will determine the price of the replacement parts on a case by case basis. Information should be sent to: info@hammerheadvac.com. Please include full name, address, phone number, and serial number, as well as photos of the damaged parts. Please use HAMMERHEAD PRORATED WARRANTY as the subject line in your email. This offer is valid as long as you own your Hammer-Head cleaning unit, but Hammer-Head may, at its discretion, limit, deny, or discontinue this offer at any time. This offer applies to end users of Hammer-Head vacuum products and is not available to distributors, dealers, online retailers, or resellers. This prorated warranty exchange requires that damaged parts be turned in to Hammer-Head.
HAMMER-HEAD LIMITED WARRANTY STATEMENT
PLEASE NOTE: Warranty on all NOCO products must be submitted to NOCO directly and not to Hammer-Head Patented Performance, Inc. To find out more about the NOCO warranty policy visit https://no.co/support/how-do-you-submit-a-warranty-claim
Hammer-Head Patented Performance, Inc. offers either a limited 6 month or 12 month warranty on select serialized products. Your Hammer-Head serial number (where applicable) must be registered with Hammer-Head Patented Performance, Inc. to validate any warranty claim. The serial number located on any motor/cord assembly, complete cleaning unit, or complete vacuum head assembly is a record of the manufacturing date. If you do not register immediately after purchase, Hammer-Head Patented Performance, Inc. will offer a limited 6-month warranty from the date of manufacture. If you do register immediately after purchase, Hammer-Head will offer a limited 12-month warranty from the date of your registration according to the requirements as stated on the warranty registration card. This warranty covers manufacturing defects on complete units, motors, switches, mount assemblies, and cart frames. It does not cover wear and tear from normal use nor does it cover wearable parts. Wearable parts include debris bags, bearings, tires, wheels, cords, propellers, mount clamp latches, and all associated hardware. Hammer-Head units must only be used on electric current as indicated. Damage, defects, malfunctions, or other failures of the Hammer-Head arising from use on electrical currents other than recommended are excluded from this warranty.
Damage to Hammer-Head units or the parts thereof caused by negligent use or abuse while in the possession of the consumer are excluded from this warranty. If the consumer or anyone other than an authorized representative does repair or modifications to the Hammer-Head, Hammer-Head Patented Performance, Inc. can, at its discretion, void all warranty claims based on inspection.
All warranty claims must be submitted for inspection. The decision to replace or repair any part or product can only be made at the sole discretion of Hammer-Head Patented Performance, Inc., and cannot be made by anyone other than an official representative of Hammer-Head. Dealers, re-sellers, and distributors may not honor, extend, or make warranty replacements or repairs without the authorization of a Hammer-Head representative. All warranty returns must have have authorization from Hammer-Head. Hammer-Head Patented Performance, Inc. assumes no responsibility for any warranties or representations beyond the expressed terms in this limited warranty. This limited warranty is valid and enforceable only in the United States of America on Hammer-Head products owned and operated normally within the United States of America.
This warranty may be subject to change without notice.
Hammer-Head Patented Performance, Inc
1250 Wallace Drive Unit D
Delray Beach, FL 33444
Click the arrow to download the Hammer-Head Warranty Statement in PDF form.
PRIVACY POLICY
Contact information collected by Hammerhead Patented Performance, Inc. (HPP) during the warranty registration process is securely stored and will not be sold or distributed to any other entity. HPP may use your information to contact you regarding new product or product improvement announcements, warranty information, or product recall.